Central to a vehicle tracking is to know where the vehicle is at any given point in time. The technology that enables tracking, round the clock is called GPS (Global Positioning System). In order to track a vehicle, a unit, which has a GPS receiver built-in, is fitted to the vehicle. This unit receives signals continuously from the GPS satellites that orbit the earth and calculates the position, speed and the direction of movement among other things. Now, in order to monitor the movement and other information about the vehicle from a central location the data captured and processed by the GPS receiver has to be transmitted to a server. Cellular communication network that has wide coverage in our country is utilized to do data transfers to the server. So telematics tracking unit installed in the vehicle also has a cellular transceiver that transmits this information to the server through the internet.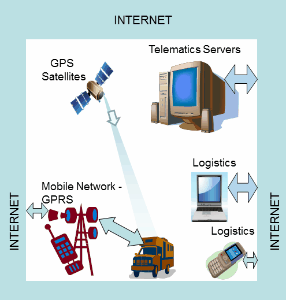 The server processes the information that is sent from each telematics unit which is then displayed on the map or as textual information for the user.
Some of the salient features of Sensel Telematics solutions
Hosted SW offering. No special requirement for computing infrastructure. The entire application runs on Web browse.
Redundancy – All critical information is replicated onto two different servers . Ensures 24×7 operation. Access information when you need to.
Accurate trips and distance computation.
Web 2.0 technologies have enabled the "network as a platform" concept. We have leveraged this together with client server capabilities to bring forth the software as a service model. All software applications run within the browser. There is no need to install any software on your computer.